Our History
Cineplex has a long and rich history dating back to the early 1900s that has shaped us into the company we're proud to be today. From the founding of the first Famous Players company in 1912, to the opening of locations of The Rec Room across the country, we have been entertaining Canadians for over 100 years – it is what we do best. Cineplex has transformed movie-going in Canada.
Adolph Zukor founds the Famous Players Film Company – today's Paramount Pictures.
Famous Players' Palace location in Montreal, Quebec, becomes Canada's first movie theatre with sound equipment.
Famous Players builds its first multiplex movie theatre nationally, in Ottawa, Ontario.
Cineplex Corporation opens its first movie theatre complex – a 21-screen megaplex at Toronto's Eaton Centre. The theatre's size and its 1,600 seats earned it a special place in the Guinness Book of World Records.
Dolby stereo is first introduced into Famous Players theatres.
Ellis Jacob, now Cineplex's President & CEO, joins Cineplex Odeon Corporation as Vice President and Corporate Controller.
Cineplex Odeon Corporation opens North America's first expansive "Cinescape" multi-media entertainment centre at Eau Claire Market Cinemas in Calgary, Alberta.
Famous Players begins rebuilding its entire infrastructure with new megaplex theatres featuring stadium seating under a number of new brands – including SilverCity, Coliseum, Colossus, Paramount and Star Cité. These complexes feature extensive food court style concessions and arcade games.
Famous Players becomes the first Canadian exhibitor to show WWE live events on the big screen, opening the door to Alternative Programming in movie theatres.
Founded by Ellis Jacob and Stephen Brown the year before, Galaxy Entertainment Inc. opens its first location in Sault Ste. Marie, Ontario.
Cineplex Galaxy LP (Cineplex Galaxy) was created with the merger of Galaxy Entertainment Inc. and the Canadian assets of Loews Cineplex Entertainment, formerly Cineplex Odeon Corporation.

Cineplex Galaxy began trading on the Toronto Stock Exchange as an Income Trust, priced at $10.00 per unit.

Cineplex Galaxy acquires Famous Players, and is renamed Cineplex Entertainment.
Cineplex partners with Scotiabank to create a first-of-its-kind entertainment loyalty rewards program, SCENE.
Cineplex launches the Cineplex Store.
Cineplex enters into the digital signage business through the acquisition of Onsite Media Networks, which it renames Cineplex Digital Solutions.
Cineplex launches its app and mobile ticketing.
Cineplex transitions to digital projectors.

Cineplex's business grows yet again with the acquisition of New Way Sales Games Ltd., thus establishing its new amusement gaming division. Cineplex Starburst Inc. is created the following year.

Cineplex Entertainment acquires 24 theatres in Atlantic Canada from Empire Theatres Ltd., making it the country's first and only national theatre operator with locations from coast to coast.
Cineplex reimagines the entertainment destination, with the opening of Canada's first location of The Rec Room, at South Edmonton Common in Alberta.

Cineplex Starburst Inc. changes its name to Player One Amusement Group, further establishing itself as one of largest suppliers of amusement solutions in North America.

Cineplex's famous popcorn and other concessions become available for home delivery.
Cineplex opens the first reimagined Playdium concept in Brampton, Ontario.

SCENE surpasses 10 million members.

Cineplex is the first theatre company globally to safely reopen its entire circuit of theatres and entertainment venues, following temporary lockdowns stemming from the COVID-19 pandemic. They welcomed back over 1.5 million guests within the first month of reopening.
Cineplex launches CineClub, Canada's first-of-its-kind movie subscription program.

Cineplex celebrates the opening of its 25th VIP Cinemas location, with the opening of Cineplex VIP Cinemas University District in Calgary, Alberta. All auditoriums in the new 22,500 square foot theatre offer state-of-the-art laser projectors, delivering the highest image colour spectrum, brightness and contrast.

The Odeon Theatres of Canada chain is created, establishing locally-oriented modern theatres in key markets across the country.
Cineplex Corporation acquires Canadian Odeon Theatres, forming a new company called Cineplex Odeon Corporation and begins planning for a major expansion.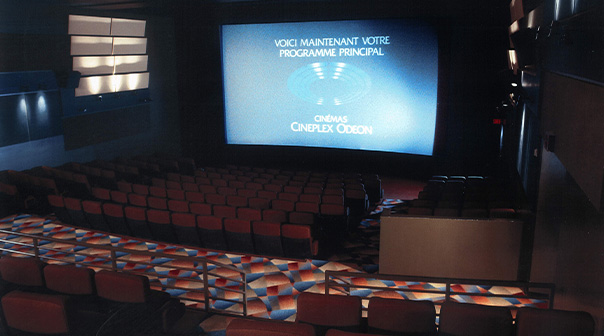 Cineplex Odeon Corporation revolutionizes an industry by introducing on-screen advertising to its Canadian theatres. This division would later become what is known today as Cineplex Media.
Ushering in a new era of luxurious, adults-only movie-going, Cineplex VIP Cinemas Don Mills opens its doors as Canada's first stand-alone VIP Cinemas location.